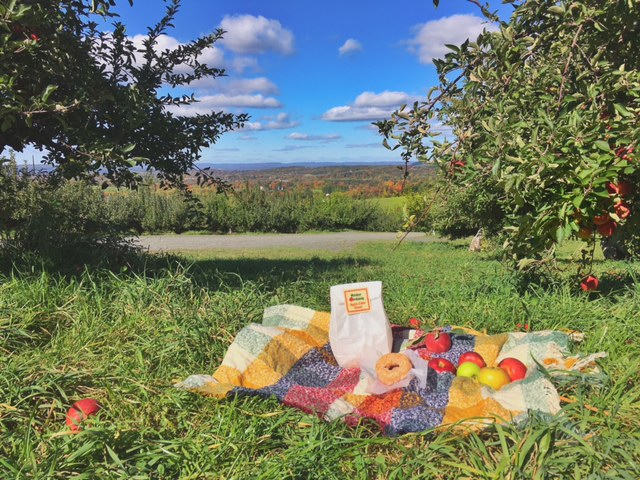 You couldn't ask for better apple-picking conditions now with the temperate weather and brilliant autumn leaves Upstate this year. Apple pie, apple butter, apple crisp, apple cider… you need apples in your life this fall, and you can't deny it. We'll let you in on two of our favorite orchards to visit, and the best part is they're within a 10 minute drive of each other, so you can hit up both in one day. Perhaps even better – one has a winery.
Masker Orchards
A 1 hour 20 minute drive from NYC, Masker Orchard delivers one of the best apple picking experiences in the Hudson Valley. The expansive orchard lends itself well to what we like to call 'the lazy apple-picker', aka, ourselves. You can drive around the entire orchard in your car, stopping at various to grab apples and capture some great pictures from the hillside vantage point. The lay out is simple and setting picturesque, with the bucolic rolling hills of the Hudson Valley in the background. Upon arrival, the orchard provides a map, enabling you to chart out your plan of attack to hit everything from the crisp Granny Smiths to the juicy Red Delicious apples. The barn store at the foot of the orchards offers apple butter, cider donuts, and plenty of other tasty goods.
Apple Dave's Orchards (previously KNOWN AS Applewood Orchard & Winery)
Rife with apples, this orchard also impresses with their pumpkin patch and winery. The pick-it-yourself section of the orchard sits next to the pumpkin patch, both a 10 minute walk or short hayride from the welcome area. Here, they grow a plethora of apples from MacIntosh Reds to the coveted Honey Crisp apple. After picking, venture into the winery room to taste their hard apple cider, hard pumpkin cider, Riesling, Merlot, mulled apple wine, and even Vodka distilled form 100% apples. A tasting of 5 for $6 bucks, ain't bad!
Comments