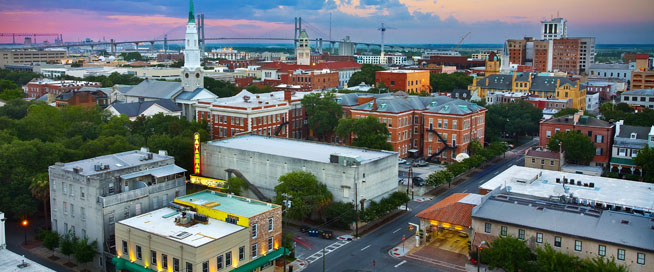 A quick hour and a half flight from New York City and you'll feel like you've stepped into the past. Savannah, Georgia is the Antebellum South at its best. The pace is refreshingly slower and that's what makes it über appealing. With a quick flight and a beach nearby, Savannah is an ideal travel destination. Once you land, it's a 20 minute drive to downtown Savannah. You'll know you've arrived when you start to see those tell-tale trees draped in Spanish moss.
The best time to go is Spring, when all the flowers are in bloom and the place comes to life, or fall when the leaves on the trees look like fireworks, showing off their bright reds, yellows, and oranges. A weekend amidst the weeping willows of Georgia's oldest city, will leave you feeling nostalgic for a time you didn't know you missed. It will relax and rejuvenate you.  You'll leave you feeling satisfied – southern biscuits and gravy can do that to a person.
What do DO in Savannah
Explore the Historic District: Savannah is dripping with history. Several different tribes of Indians inhabited the area during the American Revolution and the American Civil War. Following the wars, it became an important Southern port city. The Historic District, right in the heart of Downtown, is full of character and reminisce of Savannah's rich history. You can spend hours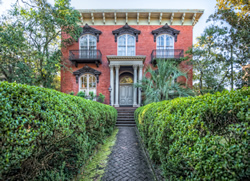 walking along the cobblestone streets, admiring the old Victorian homes and learning about the first settlers with every statue you pass. If you've read Midnight in the Garden of Good and Evil the book comes to life in Savannah, especially if you meander over the the Mercer House. It's open for public tours, if you're into the macabre.
Trolley & Riverboat Tours: For those who prefer wheels over walking, there are lots of differ
ent trolly tours available to take a spin around the city. Old Town Trolley Tours is the most popular. It's definitely a fun way to explore and learn about the city. Savannah is beautiful from the river vantage point as well, and what better way to enjoy a cruise down the river than by taking a riverboat cruise. Savannah Riverboat Cruises has tons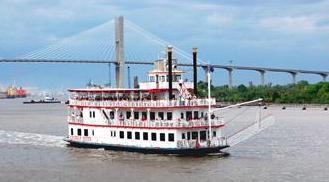 of different cruise options – like harbor sightseeing, cocktail cruises, and Sunday brunch – all aboard their Savannah River Queen.
Walk Along River Street: Savannah is a city built along the water, and walking the Historic River Street is a great way to spend an afternoon. The 200-year old cobblestone street runs along the Savannah River and used to be home to dozens of warehouses. Now, it's lined by shops, art galleries, restaurants, and bars, and you'll likely be entertained by street performers. On weekends there are often pop-up farmers markets that are definitely worth checking out.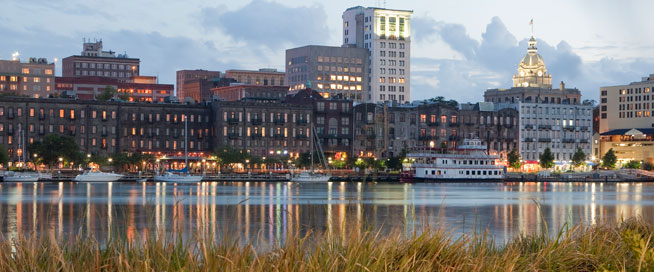 Picnic in Forsyth Park: The historic park, right in the heart of downtown Savannah, is always buzzing with activity. The park is sprawling and often dotted with kids playing or locals reading. It's a great place to play frisbee, toss a football, or just grab a picnic and relax. Covering 30 acres and lined on all sides by the most gorgeous old homes, it's one
of the prettiest parks we've ever come across. Grab a seat in one of the benches in the center of the park, (next to the fountain you've seen in so many movies) and enjoy the people watching.

Find Forrest Gump's Bench: Several scenes from the blockbuster hit Forrest Gump was filmed in Savannah, most notably the scene wherein Gump sits on a park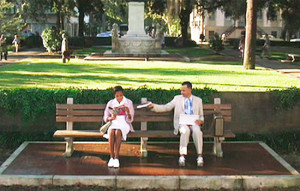 bench, talking about his box of chocolates. Maybe you'd like to find that bench and take some pics? Spoiler alert:  you won't find it. If you go searching  (like we did sadly) in Chippewa Square, all you'll find is a small sign in the place the bench should be. We were eavesdropping on a nearby Segway tour and heard the group leader tell say they used several benches while filming the movie – but they were all just props. Womp, womp.
The Beach: If you have a few days, we recommend spending one day at the beach. From Savannah, Tybee Island is only a 20 minute drive. (Advice: on your out there, stop at Back In The Day Bakery and picked up a delicious, eat-in-the-car friendly breakfast). Tybee Beach has lots of space, white sands, a warm breeze, and plenty of sunshine. It's great for both sunbathing and strolling alike, and the salty breeze will immediately relax you. The beach is bordered with lots of casual lunch places. If you have a specific hunkering for some seafood, swing by the famous Crab Shack on Tybee. They're equally known for their seafood food, entertaining atmosphere and gator feeding.
Where to EAT in Savannah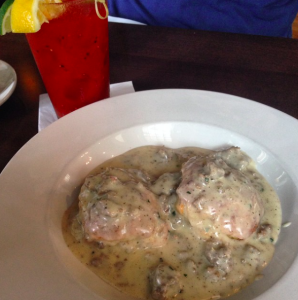 B. Matthews Eatery: You can't visit a city like this and not embrace the rich Southern food traditions. B. Matthews Eatery has a super Southern menu, full of all the things you'd expect and crave when you're below the Mason-Dixon line. Have their Southern, Biscuits & Gravy Brunch and pair it with a Bloody Mary or two.  (Which by the way, you can take to-go and sip on your walk around town. Savannah allows open containers in public!)
Elizabeth's on 37th: Open for over 30 years, Elizabeth's is always on our list when we visit Savannah. Housed in a beautiful, old, Antebellum home that has been converted into a restaurant, you'll feel right at home. They serve the freshest coastal seafood and local produce and use the restaurant's own house-grown herbs and edible flowers to adorn each place. They promise an amazing dinner that'll leave you very happy and very stuffed.
The Olde Pink House: One of Savannah's most popular restaurant, it, too is housed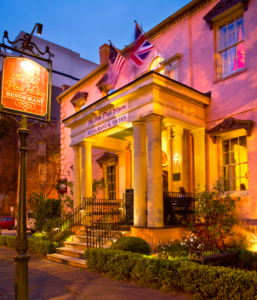 in an elegant colonial mansion. You'll know which it is because as the name suggests, it's pink! The cuisine is Southern is scrumptious. From the she-crab soup to the almost encrusted tilapia, the seafood is fresh and cooked to perfection. The menu is lengthy and no matter what you choose, you're sure to have a delicious dinner.
Where to STAY in Savannah
The Brice Hotel: The Brice Hotel is a perfect location for your stay in Savannah. The rooms are spacious and the beds are so comfy. They're so comfortable in fact, that we decided to stay in one night and order pizza from the famous Screamin' Mimis (highly recommend). Bonus: they offer a complimentary wine ha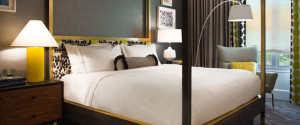 ppy hour from 5-6 every day. Hello 5'oclock. The hotel's beautiful courtyard is draped in lights and is the perfect back drop to enjoy that glass of wine or have breakfast in the morning.
The McMillan Inn: Just blocks from Forsyth park, the McMillan Inn is a quaint boutique inn that just screams Southern charm. It has just 4 rooms and a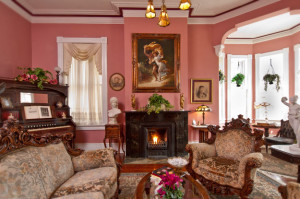 carriage house and each is meticulously decorated to conjure images of the vintage South. Because it's so small, be sure to book a room here well in advance. Our favorite thing about this property is its proximity to everything else in Savannah. Once you arrive, you really won't need to use a car again during your weekend stay.
Photo Cred: The Brice Hotel Historic Savannah, Savannah Theater, Old Town Trolley Tours, Savannah Riverboat Cruises, McMillian Inn, Planters Inn, and Compass + Twine
Comments