These days, it seems everyone has a trick to skip the lines at the airport. Maybe your boarding pass reads 'Sky Priority' or 'Mint'. Maybe that extra dough you threw down for more legroom also gets you through a priority access line. In the world of airport security lines, nothing is worse than having to wait in the standard line, that seems to grow longer the more time you wait, all while watching those lucky travelers skip lines with Global Entry, TSA PreCheck, and the newest option, Clear. So how do you get in that cool-kids-club and which one is right for you? Below, we break down all 3 options.
tsa precheck
TSA PreCheck is probably the most common line you'll see at the airport. Just about every airline terminal offers this option and the lines are usually much shorter compared to regular security checkpoint lines.
THE BREAKDOWN
Apply online or schedule an appointment at an airport which appointments are available
If approved, you'll have this status for 5 years
Costs $85
Allows you to enter the TSA PreCheck line
Liquids (& usually laptops) remain in your bag
Shoes remain on
global entry
Global Entry is geared toward international travelers. Essentially, it allows you to skip the long lines at immigration but to be approved means going through a rigorous application and interview process.
THE BREAKDOWN
Apply online and schedule an interview
Application costs $100
Interview must be in-person at an airport which this is available
They'll perform a background check, fingerprint you, and scan your eyes
If approved, you'll have this status for 5 year
Allows you to enter the TSA PreCheck line, leaving everything in your bag
When traveling back to the US from an international destination, you'll get to bypass the long lines, Instead, you'll head to a Global Entry kiosk where you'll scan your passport and fingerprints, answer a few questions and be on your way.
clear
CLEAR is the newest option for skipping lines at airport security. It's a completely separate line that TSA PreCheck and essentially allows you to skip all lines. Everything is manages digitally so the process is very quick. Since it's new and the most expensive, membership likely won't be as high as with Global Entry and TSA PreCheck, meaning these lines will stay shorter than the rest.
THE BREAKDOWN
Apply online or at a CLEAR kiosk at the airport
At the kisok, they'll scan your fingerprints and eyes
Costs $179/year ($15/month) billed annually, but once you're a member, your family members can join for a lesser price using your special code
Kids under 18 years old are free
At the airport, you'll enter through a CLEAR line, step up to the kiosk, scan your fingerprints or eyes (during the application process, the computer decides which is more secure for you), and scan your boarding pass. Then, an agent will zip you to the front of the security to the part where you scan luggage. If you're PreCheck, you'll go scan your luggage through that line, if you aren't, you'll scan through the standard line. But either way, you'll never wait in any lines.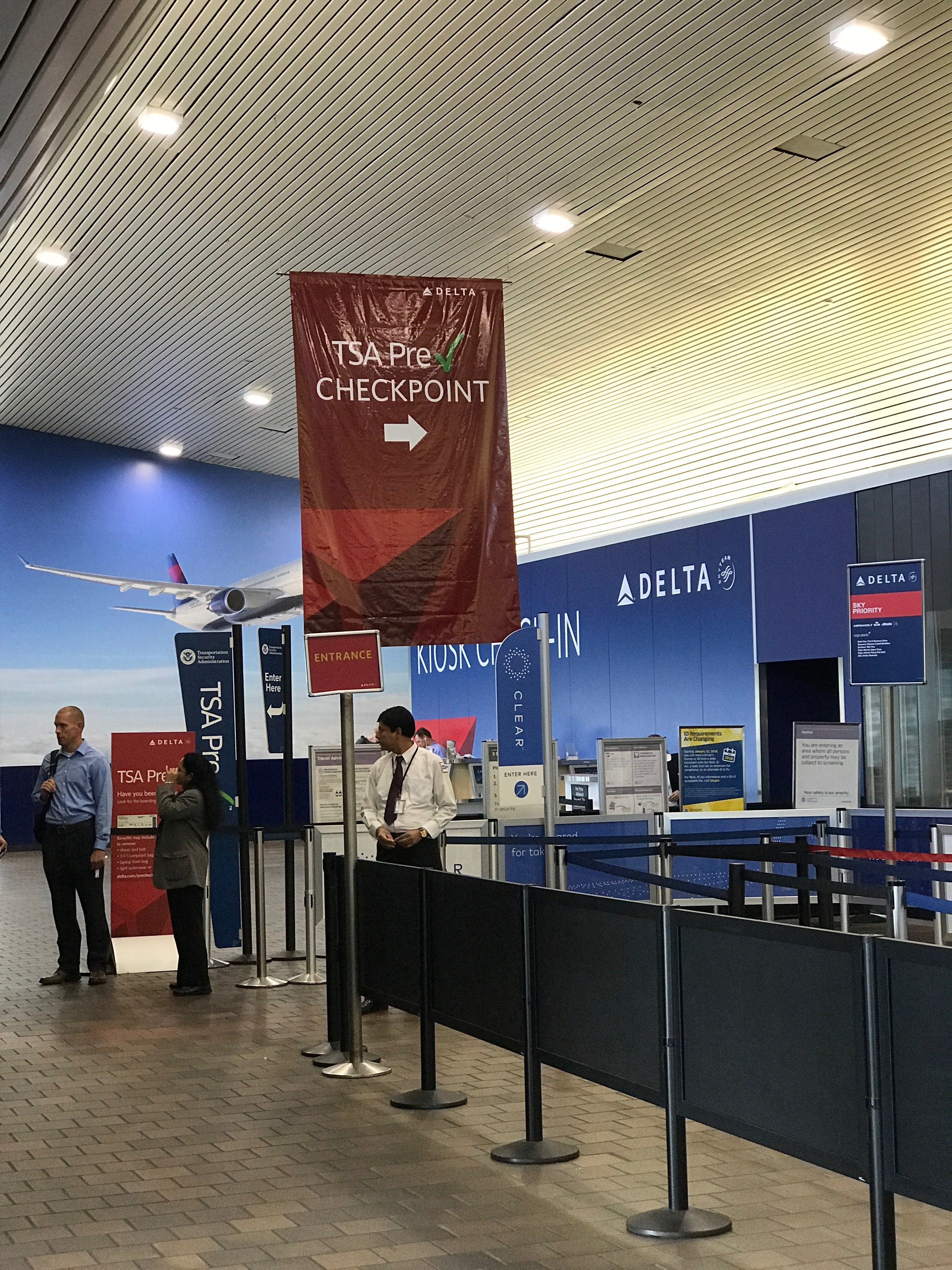 Comments