Maui, Hawaii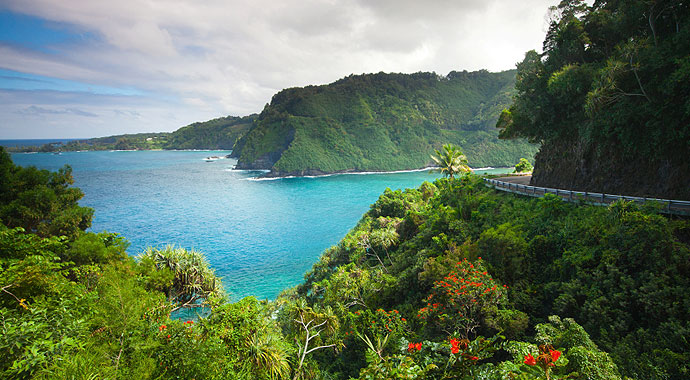 The flight to Maui from the East Coast is a long trek (11 hrs from NYC), but one that's undoubtedly worth it. The natural beauty of the island is unsurpassed and visiting is an experience you won't soon forget. The center of Maui sits between two mountains, giving it the aptly chosen nickname "The Valley Isle".  One of those mountains, Haleakala, is a dormant volcano. A trip to the top of Haleakala in the middle of the night will reward you with one the most gorgeous sunrises imaginable. Surrounded by crystal clear waters, most of Maui island is covered in lush tropical forests.
Walking through the airport upon arrival in Kahului, you'll know that you've just landed somewhere special. The open air baggage claim gives you that first whiff of the sweet Hawaiian air.  Lei's, made from fresh Maui orchids, are offered as welcome gifts from the locals. While Maui is the second largest island in the Hawaiian chain, it's still only 48 miles long and 26 miles wide. We recommend renting a car at the airport to make the most of your visit to the Valley Isle.  You'll want to explore the island as much as possible – nothing compares to Maui.
what to do in maui
The Beaches: Maui has over 30 miles of beautiful white, red, and black sand beaches. The weather is pretty close to perfect,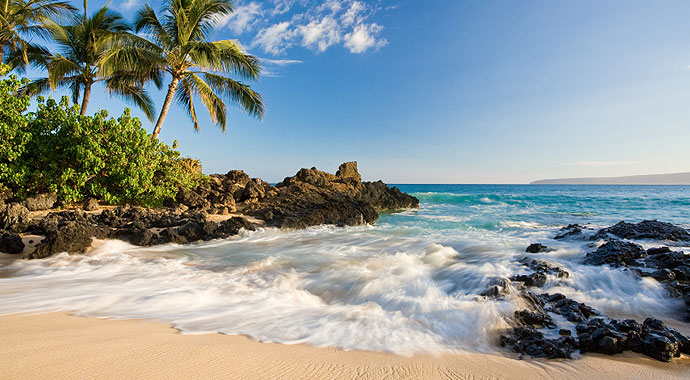 so you can enjoy the island year-round. Maui is known for its surfing, so if you're adventurous, rent a surf board and paddle out there. For those a little less venturesome, relax in the sand with a good book or get some exercise in the north Pacific waters with activities like paddle boarding or kayaking. Makena Beach, aka Big Beach, is on the South side of the island and offers a mile of orangey-white sand to enjoy. Kaanapali Beach and Kapalua on the West Coast are two other favorites on the island, known for their crystal clear waters and serene, relaxed atmosphere. Kaanapali even once held the title of best beach in America. One'uli Black Sand Beach is rugged and breathe-taking. Slightly off the beaten path, the beach has dark volcanic sands and is one of our favorite places to go for a swim. Lastly, if you're feeling experimental, Little Beach is a nude beach. We haven't been, but let us know how it is if you do go.
Grab Your Snorkel Gear: There are a few places in Maui known for excellent snorkeling and plenty of places to rent fins and masks if you didn't BYO. On the island, we recommend checking out Black Rock at the end of Kaanapali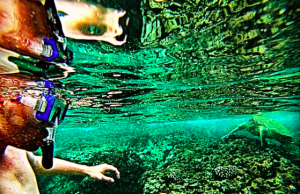 Beach. Your bound to see sea turtles and a plethora colorful fishies under the surface. A few miles off the South coast of Maui lies the Molokini Crater. It's a u-shaped patch of land left behind after a volcano was said to have erupted more than 200,000 years ago. During World War II, the U.S Military used the island for bombing practice but today, it's a Marine Life Conservation District and Bird Sanctuary. The reef is healthy again and schools of fish now call it home. It's a great place for both snorkeling and scuba diving.
Watch the Surfers at Jaws: Jaws (aka Pe'ahi) is the biggest surf break in Maui. It
is not, we repeat – NOT – for beginners. Jaws is famous world-wide and the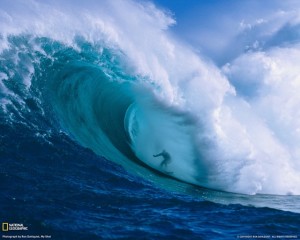 annual Billabong XXL Global Big Wave contest is held here. If you've seen pictures of monster waves that seem curl into themselves, it's likely they were at Jaws. Watching the professionals here in the winter (when the swells are big) is worth the trip alone. Park on the side of the road up top and enjoy the spectacular surfing down below.
Drive the Road to Hana: Experiencing the Road to Hana is a great way to see a little of everything Maui has to offer. We say "experiencing" because you have a few options of how you can do it: drive yourself, hire a driver, sign up for a ride on a tour bus, or fly above it in a chopper. Which mode of transportation you choose depends entirely on what kind of tourist you are. The journey can take several hours because there is so much to see and do along the way. We're talking hikes, waterfalls, food stands, beaches, cliffs, lava tubes, tropical gardens and more. We recommend doing some research to see which aspects interest you the most, and then plan your road trip around those destinations.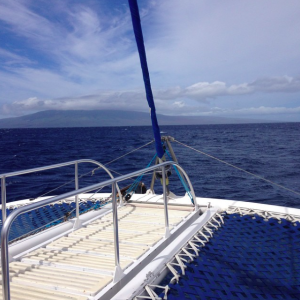 Whale Watch: From December through April, the ocean off the cost of Maui is teeming with humpback whales.  The females come to the area at this time to give birth and are escorted by protective males. If you're visiting during these months, you can't miss watching these mammoth, docile whales breaching the water up close and personal from a boat.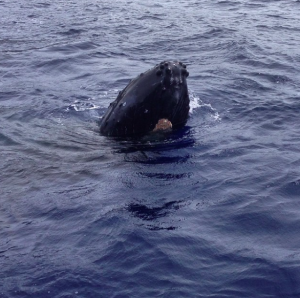 As far as outfitters go, Sail Trilogy is the best of the best. Their crew is extremely knowledgeable and their catamarans are spacious and well-equipped Wear something comfortable because you'll likely be running from side to side to get a good look at the humpbacks and might even get sprayed – if you're lucky.
Golf at Kapalua: Golfing at the Plantation Course at Kapalua is on bucket list of most golfers. The picturesque course is consistently ranked the best in Hawaii. Each January, the PGA TOUR Hyundai Tournament of Champions is held here. It's a challenging course but the killer views will end up being your biggest distraction.
Relax at Spa Grande: Okay, the Spa Grande at the Grand Wailea Resort is what we dream about when we close our eyes at night. It is hands down one of our favorite spa experiences ever. Spa Grande has a long list of different massages and the masseuses are all incredible. Before your spa even begins though, you enter into an enormous room full of baths and pools. Some are hot some cold, some calm and some have high pressure to soothe what ails you. The salt baths
are colorful and mezmerising, each providing different health benefits infused with various vitamins and minerals. Then, even still before your massage, you're taken for a full body exfoliation. It's a cleansing and detoxifying experience.  Finally, you can enjoy the amazing massage or treatment of your choice. Afterward, relax a little longer on the lanai, with some cucumber water and killer views to make for the perfect afternoon.
Watch the Sun Rise & Bike Down a Volcano: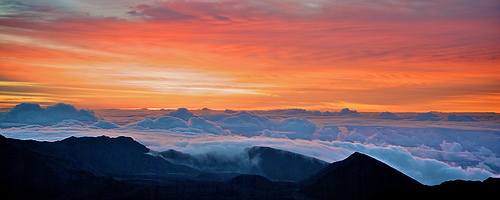 So, yes, you'll have to wake up REALLY early for this one – like 2:30am early – but boy is it worth it. Mark Twain called it, "…the sublimest spectacle I have ever witnessed" and took the words right our of our mouths. Haleakalā is a dormant volcano and national park. One of the best way to see it is to book with a good tour company. We love the guys at Haleakalā Bike Co (ask for Alika in particular if you can). Set a few alarms so you don't miss it get there. It can take up to two hours for your guide to drive up the volcano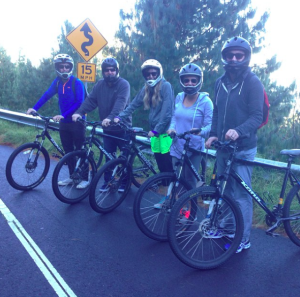 . Once you reach the summit (which can be chilly at over 10,000 ft), you'll be treated to one of the most divine sights of your life. Watching the dawn colors fill your line of vision with hues of gold and tangerine will leave you speechless. Take it all in, embrace the moment, then get ready to ride. The 23 mile ride down the volcano and back to the base of the park is full of incredible views of the island at every turn.
Old Lahaina Luau: While there is food at a Luau, this is much more of something to 'do' rather than just eat. The show is the real star here. There are plenty of luau options in Maui but to be honest, many are kitschy and very touristy. This one, however, is quite enjoyable. Luau's are about story-telling, and the Old Lahaina Luau promises to be one of the most authentic and entertaining around. It tell the story of Hawaii's history and culture through beautiful dances. The menu includes traditional Hawaiian food such as fresh fish, poi, and island style chicken – but the real pièce de résistance is the whole-pig roasted beachside in an underground oven.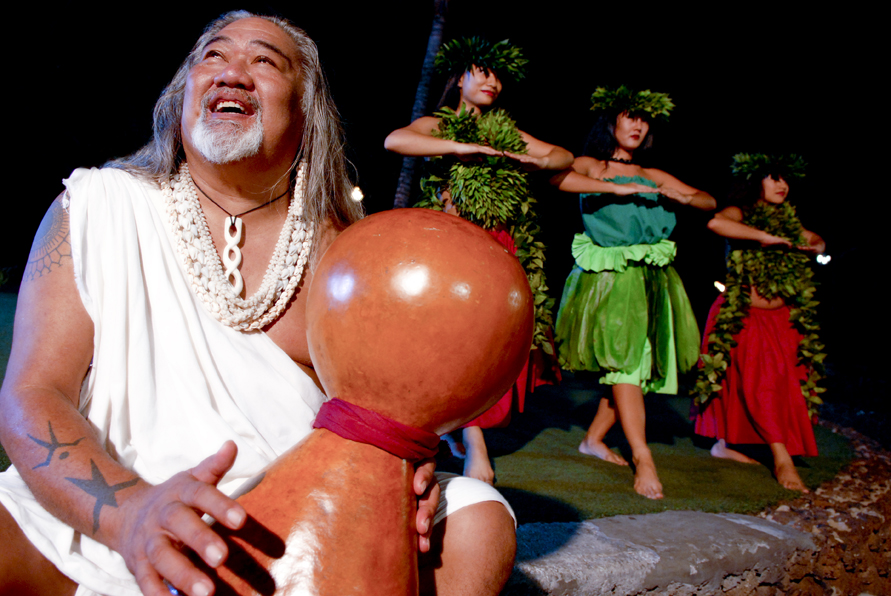 where to eat in maui
Mama's Fish House: This local landmark is on the North shore of the island and you'll need reservations for dinner here. It's the prefect place to visit after an hour watching the daredevils at Jaws. The food is incredible and so fresh they list the name of the fisherman who caught it that morning on the menu. The Onu and Opakapaka are favorites, prepared simply with garlic butter and veggies. Order a Planatation Punch or (and?) a Coconut Mint Refresher and a dessert of Mama's Cookies and ice cream and you'll come as close as possible to having the perfect meal.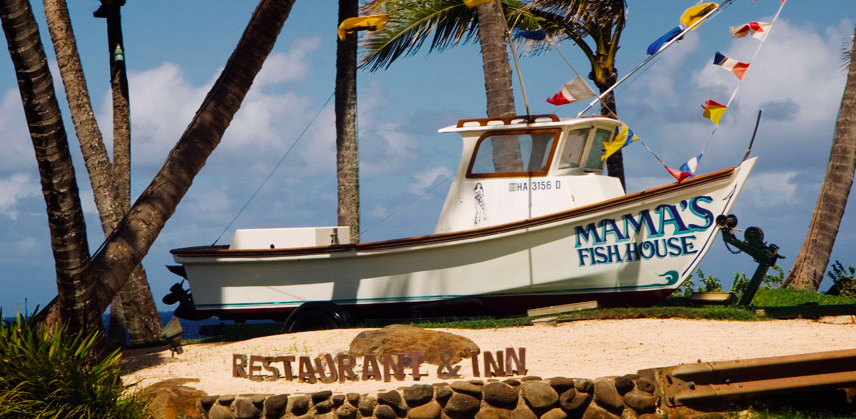 Mala: Located on the beach, right on Front Street in Lahaina, Mala is one of our favorite places to have dinner in Maui. The atmosphere, like most places in Maui, in casual, the food is fresh, and the drinks are strong. The Mahi Mahi Ala Plancha, Avalon Seared Ahi Sashimi, and the Fresh Island Fish Sandwich are solid choices. A Spunky Mala Monkey to wash it all down will make you feel so stinky tropical you won't know what to do with yourself.
Aloha Mixed Plate: Hawaii is known for a few things in the food department that we found interesting: Spam (no thanks), and the local speciality called a Loco Moco. What is that you ask? It typically consists of white rice, topped with two hamburger patties, fried eggs, and brown gravy. Hearty and delicious! Aloha Mixed Plate does it right!
Honu Seafood and Pizza: The same folks who own Mala, own this spot — maybe that's why we love it so much? Get the White Shrimp Mojo Verde pizza, Bikini Blonde Batter Fish and Chips, or the Fresh Fish Dore Style, and a side of Dungeness Crab Mac 'N Cheese and you will leave fat and happy just like we did!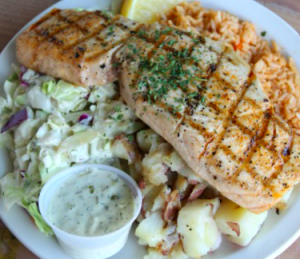 Paia Fish Market: This buzzing little fish joint has two locations, one in Paia and their newest in Kihei. It's an 'order at the counter and squeeze into a spot at the picnic table' kinda joint and we love it. You go here to get fish and we love the plates, sandwiches, and fish and chips.
Lahaina Grill: Lahaina Grill is considered by many to be one of the best fine dining options in Maui and was named by Trip Advisor as one of the top 25 best restaurants in the U.S. The menu, like most Hawaiian restaurants, has a healthy dose on Asian influence. The food here is fancy and fresh and it's a great option if you're looking for something a little nicer for dinner.
Roy's: This restaurants is a Maui staple and no trip is complete without a visit. Roy Yamaguchi was born in Japan, attending culinary school in New York, and opened his first restaurant in California. But it didn't take long before he came back to Maui, where his father was born and raised, to get closer to his roots. His food has influences from all over the world and the menu has something for everyone. We love the Dim Sum Canoe, the Ahi Poke Bowl, and the Chinese-Style Steamed Whitefish.
where to stay in maui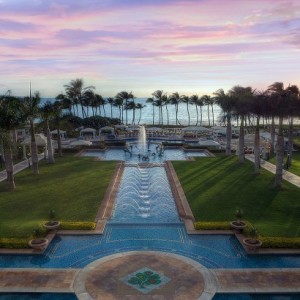 Grand Wailea Resort: Built on 40 lush acres in Kihei, right on Wailea Beach, the Grand Wailea is a tropical paradise. It was named one of the world's best hotels for families in 2014 by Travel and Leisure magazine. The rooms are big and comfortable  The luxury resort has several restaurants, pools, a golf course, water sport activities, an amazing spa, and a beautiful beach.  What more could you want?
Kaanapali Alii: The oceanfront Kaanapali Alii  Resort in Lahaina has everything you need for a dream vacation. The accommodations are condo-s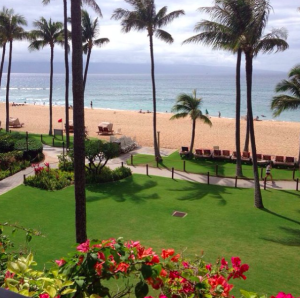 tyle, giving you plenty of space and making it the perfect place to stay when traveling with friends or a big family. The one and two bedroom condos each include a spacious kitchen and a private lanai (patio/balcony). This means you can really relax, cook lunch and dinner in the condo if you want rather than having to get dressed and head out for meals. It means more time on the beach and in the pool, and less time worrying about making plans. The Alii also has several massive grills down by the pool area which are open to guests on a first-come-first-serve basis so you can grill dinner and then eat outside! There's no restaurant on site, but grocery stores and fish markets are close by and the Ali staff will graciously help you get any groceries up to your room.
The Ritz-Carlton, Kapalua: Built on 54 acres and boasting 463 guest rooms and suites, this Ritz-Carlton property is huge. The resort features 6 different dining options and while there's plenty to do and enjoy on site, they also provide a shuttle service nearby beaches, shopping, and restaurants. If you're an avid golfer, this is definitely where you should stay, as the resort has two champion golf courses, including the famed Plantation Course.
Maui at Wailea (Four Seasons): Set on the Southwest coast of Maui, the property boasts the largest resort suites and guest rooms, as well as the island's largest hotel bathrooms, so if space is important to you, look no further. The resort is beautiful, drenched in sunshine and tropical flowers. The location is prime for any island activities you hope to enjoy such as the Road to Hana and snorkeling at the Molokini crater. The restaurants are great and they have a wonderful pa as well. Looming out from the beach, Haleakalā is looming in the distance, hopefully reminding you that you should really see the sunrise there.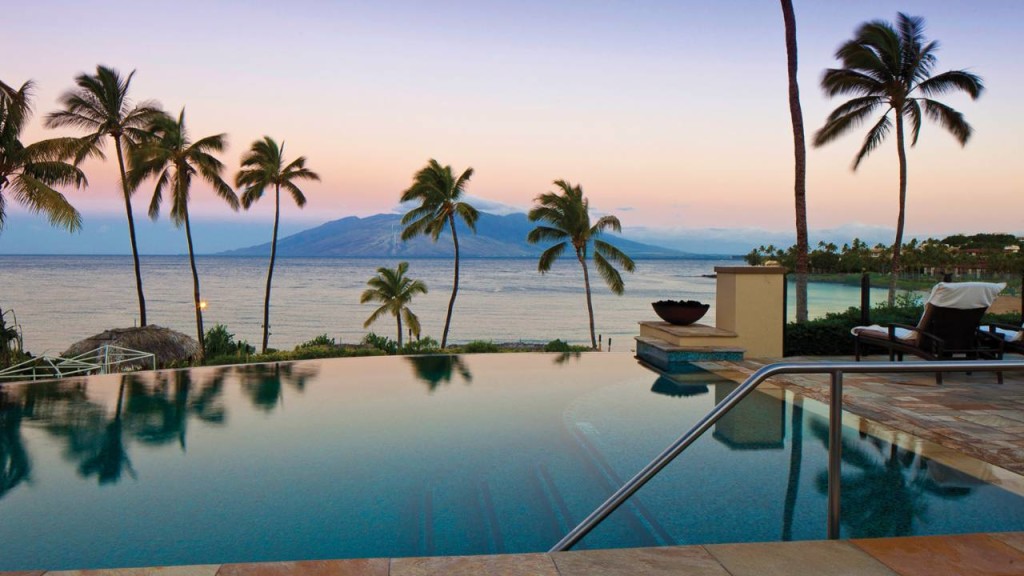 Photo Cred: Aston Hotels, Kapalua Golf, Go Visit Hawaii, Grand Wailea, Tom Adden, Surf Holidays, Old Lahaina Luau Mama's Fish House, Aloha Mixed Plate, Paia Fish Market, Four Seasons, and Compass + Twine
Comments