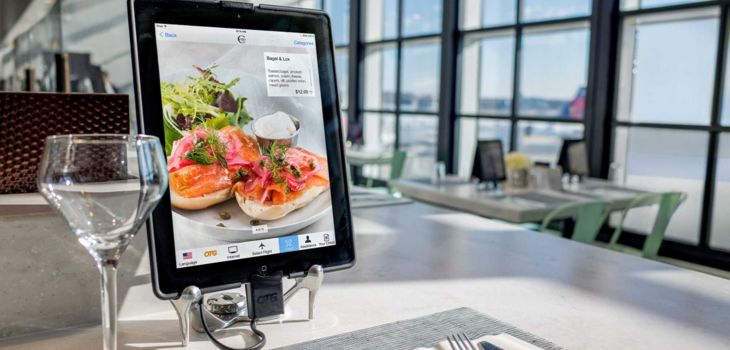 Photo Cred: Delta
To put it bluntly, airport food is generally pretty terrible. The truth is though, it has become significantly better in recent years. Chefs are beginning to take notice of the captive audience and the increasing number of travelers looking for good, quality eats. Here's our list of best meals at some of the most trafficked airports.
New york: John F. Kennedy International (jfk)
→ Deep Blue (Terminal 5, Center Marketplace): In Jetblue's Terminal 5 is one of the most well-regarded sushi restaurants in all of airport-land. The chef and restauranteur behind Buddakan in Manahattan, Michael Schulson has brought some high caliber sushi and Japanese yakitori to the traveling crowd.
→ La Vie (Terminal 5, Center Marketplace): Breakfast can be tough at the JetBlue terminal. The service at the center-area cafés is slow and the Starbucks line is 562 miles long. But just to the right of Starbucks, hidden behind the line of people is a little French Brasserie called La Vie. The food is good, the coffee is great, and the service is speedy.
→ Shake Shack (Terminal 4, Gates B23 & B37): Shake Shack's only airport location is here at JFK. Their burgers are insane and some of our favorite on the planet. You can't go wrong with either the ShackBurger or the SmokeShack. Pair any burger with one of their famous frozen custards, chocolate shakes, or root beer floats.
→ Uptown Brasserie (Terminal 4, Gate 32): Owned by Top Chef Marcus Samuelson, you just know the food here is going to be good. Order the Reuben, Market Burger, or Grandma's Meatballs.
CALIFORNIA: LOS ANGELES INTERNATIONAL (LAX)
→ Wolfgang Puck Express (Terminal 7, Gate 3): Wolfgang Puck is a world renowned Chef and no doubt creates some delicious food. But when we stop in his LAX outpost, we go for the same thing every time – the Barbecued Chicken Pizza and Fennel Sausage Pizza. Both are exquisite.
→ Lemonade (Terminal 5, Gate 52B): The sleek and sophisticated cafeteria-style eatery serves delicious, light and healthy California fare. Fill your tray with lean meats and fresh salads and eat at your own speed in this casual atmosphere. There are a bevy of options to choose from, but the Shaved Brussel Sprouts Salad, Soba Noodles, Pineapple Chicken Salad, and Buttermilk Baked Chicken Breast are notably delish. Grab a dessert to go and be on your way!
GEORGIA: HARTSFIELD-JACKSON ATLANTA INTERNATIONAL (ATL)
→ One Flew South (Terminal E, center-point): One Flew South was the first upscale dining spot in the Atlanta airport and it's still one of the best places to enjoy a meal. Their Pimento Cheese Plate, Concourse E Dry Aged Burger, & Pulled Duck Sandwich are all pretty killer.
→ Chik-Fil-A (Terminal C, Gate 21): Chik-Fil-A started in Georgia in 1946 and claims to be the "home of the original chicken sandwich". Yes it's fast food, but few folks do a chicken sandwich better than them. Their waffle fries are also amazing, especially when drowned in their 'polynesian sauce'.
MASSACHUSETTS: BOSTON LOGAN INTERNATIONAL (BOS)
→ Legal Seafood (Terminal B, Gates 8 & 29): With 24 locations in Massachusetts alone, Legal serves incredibly fresh seafood – yes, even at the airport. Get their Signature Crab Cakes or a Lobster Roll.
→ Legal Test Kitchen (Terminal A, Gate 5): A sister restaurant of Legal Seafood, the Lobster Roll is also a must to order here. Otherwise, the New England Clam Chowder is the perfect, hearty pre-flight meal.
MINNESOTA: MINNEAPOLIS – ST. PAUL INTERNATIONAL (MSP)
→ Ike's Food & Cocktails (Terminal 1, the Mall across from checkpoint 1): Is Ike's a Minnesota staple? You BETCHA. The airport location serves amazing Bloody Marys and one of the best Angus French Dip sandwiches you'll ever come across. Ask for extra horseradish mayo – the more you slather, the better.
San Juan: Aeropuerto Internacional Luis Muñoz MaríN Puerto Rico (SJU)
→ Casa Avila (Terminal B, Near Gate 2): The San Juan airport is in the middle of a major facelift and things are looking great. The construction and expansion of the airport has come some new restaurants and bars to make this gateway-to-the-Caribbean airport a place you won't mind as a layover. Enter: Casa Avila, a delicious tapas and wine bar in the B terminal. The grilled octopus was killer, the croquettes were delicious and we give the empanadas two thumbs up! The restaurant is spacious enough that you can pile your luggage next to your table while you enjoy a meal that will surely convince you that you aren't actually in an airport!
texas: houston george bush intercontinental (iah)
→ Pappadeaux Seafood Kitchen (Terminal E, near Gate 9): This is a favorite of the frequent flyer crowd at IAH. Located on the second floor, the restaurant makes you completely forget you're dining at an airport. Known for their speedy services, Pappadeaux's has delicious seafood fare (including one amazing Shrimp Etoufée) and plenty of cold brews on draft.
→ Urban Crave (Terminal C, Gate 29): One of the more forward-thinking airport eateries we've come across, Urban Crave serves some savory bites inspired by street food from all over the world. The authentic street cuisine is packed with flavor and includes items like fresh fish tacos, fresh ground-chuck burgers, ceviche, lettuce wraps and more.
Comments