Tonight's interviewee sails through skies more than anyone we know. From the worst airports in the country to tips on beating those long security lines, United Airlines Million Miler, Calvin LeFevre, reveals all the tricks of the travel-trade.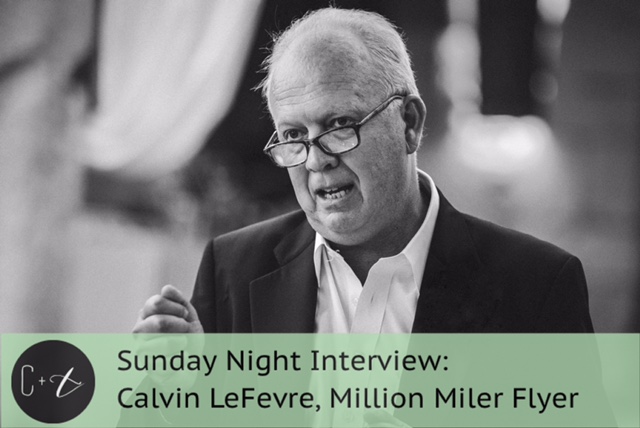 As a "Premier 1K" 1 Million Miler with United, how many miles have you flown and how long did it take you?
1,652,856; probably about 10 years of heavy flying with United (+Continental now owned by United); most of the miles are domestic – not easy.
Why do you travel so often? 
95% on business; mostly for business meetings and dinners – being in front of people is important and getting to know them outside of the office generates trust – during a business negotiation there will be a time when both parties need to talk off-line – trust makes that more viable.
A little birdie told us you can get through an airport faster than anyone. Do you have any tips on how to make the process speedier? 
There is usually always an alternative security entrance – Newark is a good example, they usually have three security entrances open at different locations just for Terminal C. Go to Terminal E at IAH (Houston) even if your gates is at Terminal C – security lines are much better; Next, always carry your bags – if the flight is delayed you can change planes, and when you get off you, head straight to your car; Finally, get Global Entry. It will help with TSA Pre-Check which allows you get through security faster.
You've travelled so much, you must have some favorite airports, which ones are at the top of your list and why?
I prefer to fly to smaller regional airports – Orange County (John Wayne) Airport rather than LAX – traffic is easier, rental cars are closer and security is faster. I always fly direct, never make a stop – delays and lost time are horrible. I would rather fly direct to a city close-by and drive 2 hours, than stop at another city and change planes to get to my destination. Example: If my destination is Huntington West Virgina, I will fly direct to Charleston WV and just drive – rather than fly to Charlotte, change planes, fly to Huntington. Good regional airports include Bakersfield, Detroit, Indy, Jacksonville FL. Quiet little secret, Philly United terminal is much improved.
Now least favorite. We've all had a bad experience somewhere, which airports do you dread visiting and why?
Atlanta, because the airport design is horrible and you need to fly Delta (which has improved) or US (Useless) Airways; Chicago and LAX because of the delays, the terminals are old, walking to the gate is as crowded as walking in Time Square, the facilities are stuffed along the walls, and miserable traffic into the city once you finally get to your car. 
Obviously you feel it's important to be brand-loyal, what are some of the perks you have enjoyed from United?
Flying out of Houston "forces" brand loyalty. With Continental, that was not an issue – although recently United has stepped up its service. For a number of years after the merger, United's service was horrible compared to Continental, and Houston got all the old planes. It has improved. Fortunately, United kept the Continental One Pass program which was best in class. Once you get over the million miles, the program also applies to one's spouse…..this means much of the time my wife, Deb, flies, she gets up-graded as well. Similarly, I probably get upgraded 80% of the time. 
Do you have any insider tips on how to make the most of your frequent flyer program?
Be flexible as to the time and date you fly. A round trip will usually cost you 25,000 miles each way, so look at your options to fly at a different times in order to get a flight for 12,500 each way; Don't fly between 7:30 thru 9:30 am or 4:00 thru 6:00pm; Lastly, I have a rule of thumb that I only use mileage for flights that cost over $500. Otherwise, I think it makes more sense to purchase the ticket.
What are your pet peeves when traveling?
People talking on cell phones (mute it); people taking up more than their space for no reason (buy two seats); People who feel they are more important and don't wait their turn to get off the plane (thank you, I'm sure); Taking a train to get the rental car area; TSA (Thousands Standing Around); Arriving at the airport with more than an hour before the plane takes off.
Any final thoughts for us?!
Always have a Bloody Mary – it's the only time I drink them; Much improved wine bars at airports – Houston has a good one at Terminal C (South Concourse); Smile and be friendly to the gate personnel and the flight attendants; Finally, no point in worrying about the flight, just enjoy it. 
Comments