Every twist and turn in Chinatown offers a surprise. Vibrant and buzzing, the neighborhood goes so much deeper than simply a place to buy those knock-off handbags and watches on Canal Street. From dim sum eateries to fish markets we never get tired of exploring streets like Doyer, Mott and Grand. One thing you can always count on in Chinatown is a plethora of amazing fresh fruits stands.  Dragon fruit, Lychee, Durian, Mangosteens —  you can find all the delicious delicacy fruits from China and Southeast Asia.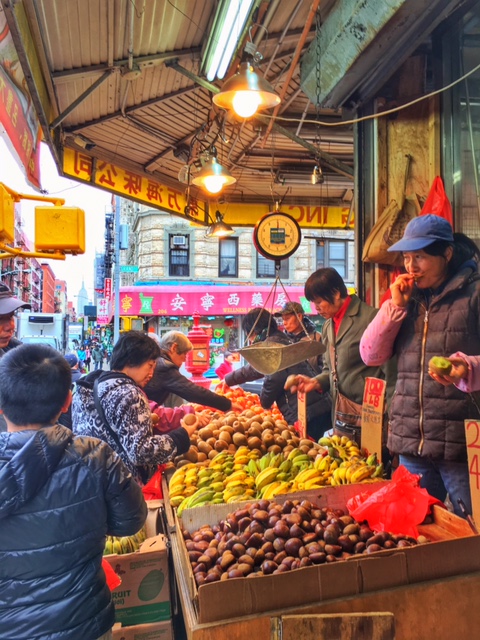 Our favorite fruit stand sits on the corner of Bowery and Grand, outside of the Tú Qùynh Pharmacy. The produce is fresh, the people are nice and the prices are right. We'll swing by for a grocery stock-up or just a fun weekend adventure.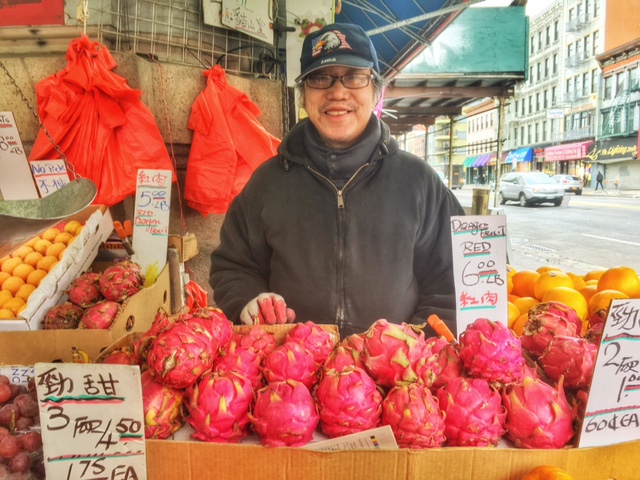 Durian, one of the most famous – or infamous – fruits in the world, can be found here as well. We weren't brave enough to try it until recently. Pungent doesn't even begin to describe Durian's smell or taste. Stemming from Southeast Asia, some people (apparently) find the delicacy fruit somewhat bearable, even 'okay'. However, the vast majority of tasters, from our experience, yank the bite from their mouth faster than you can laugh at their grimacing face. Crack open the hard, porcupine-like casing to uncover a butter-yellow custard-like glob in the middle. Gasoline custard is our best description, but – hey – to each their own.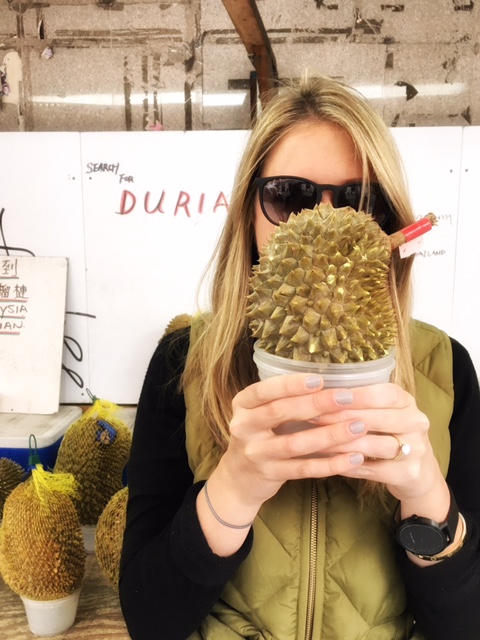 Were we skeptical? Yes. The smell alone makes you want to run. The lady running the fruit stand recanted an amusing story, where one of her patrons took a large Durian home a few months ago. He cut it open in his apartment kitchen, and 20 minutes later, the fire department knocked on his door. Apparently his neighbor had mistaken the Durian smell for a gasoline leak.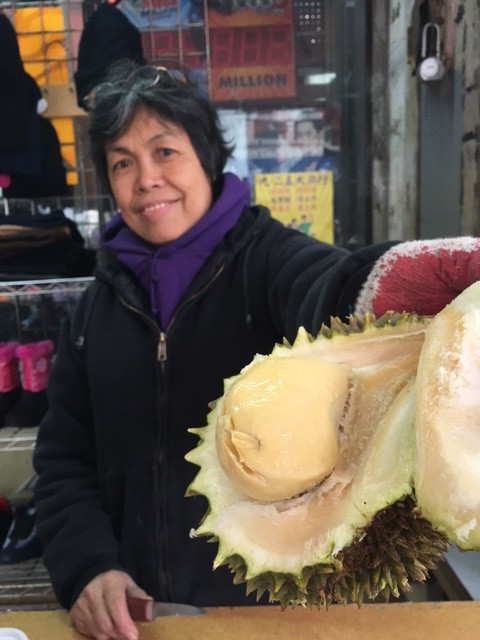 This specific stand has garnered quite a bit of notoriety over the past few years, specifically for their Durian selection. In 2013, the New York Times wrote a great piece on Jay Fan (who usually works the stand at night these days) and even christened him as "The Durian Man".
From our experience, try to select one that's small and from Thailand. They seem to be a little sweeter and less hostile to your taste buds.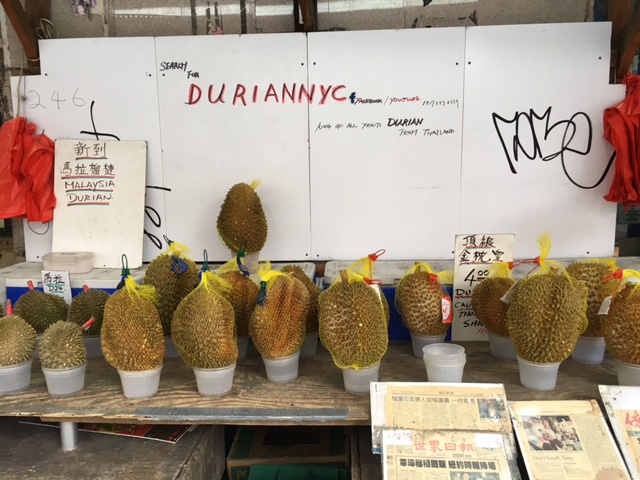 On the more enjoyable side of the fruit spectrum, venture to try the vibrant and juicy Dragon Fruit – also know as Pitaya. This refreshing fruit pleases just about all tastebuds with its sweet flavor and subtle tartness. The exterior of Dragon Fruit resembles a hot pink cactus-looking fireball (acutely scientific observation). Inside you'll generally find one of two flesh tones, a cloudy white or a brilliant magenta color. Basically, it's a party on the inside and out.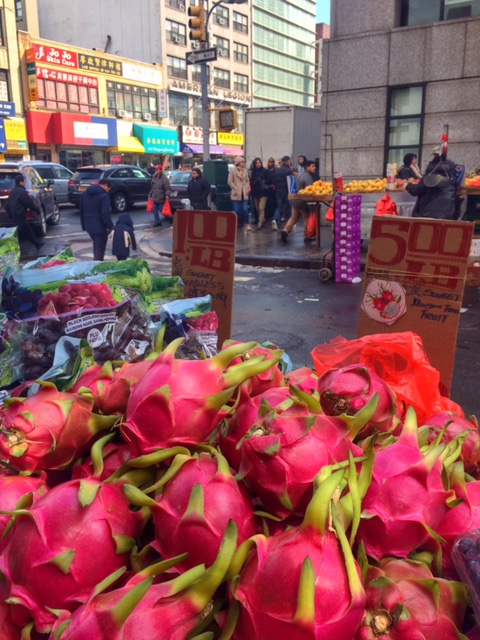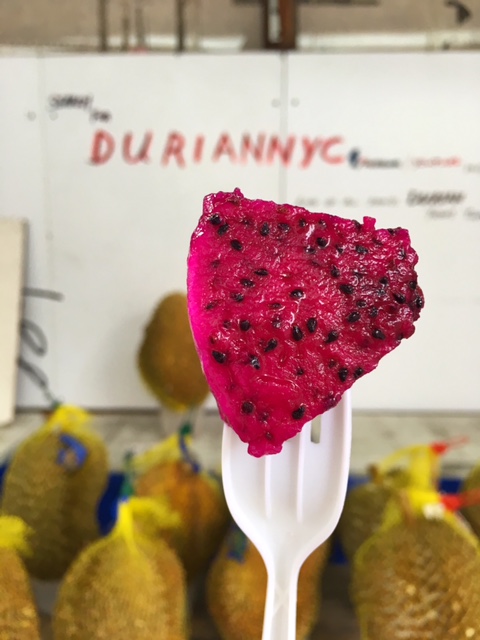 Next, scout the stands for some succulent Lychee. Peel away the prickly purplish red exterior to reveal the translucent white flesh in the middle. Loved by many, Lychee has a juicy and lightly floral characteristic to it, and a perfume-like aroma compliments its sweet and pleasing taste.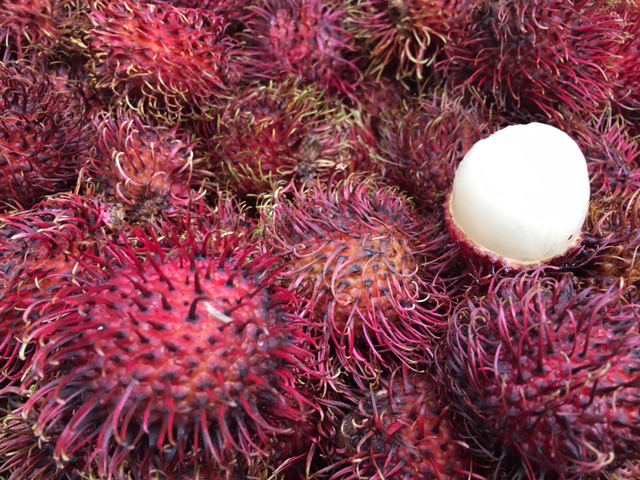 Chinatown never ceases to engage and excite you. Spend an afternoon really exploring the neighborhood – soaking in all the sights and smells. Meander into the fish markets and slurp up some soup dumplings, but just don't miss the tasty exotic fruits. For the most fresh and complete selection – say hi to our friends outside Tú Qùynh Pharmacy!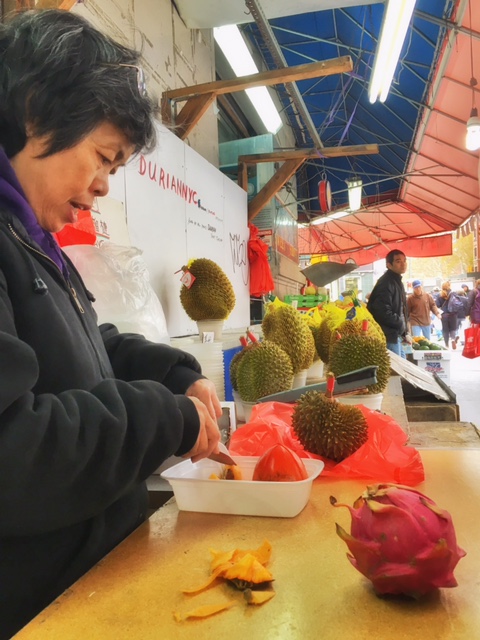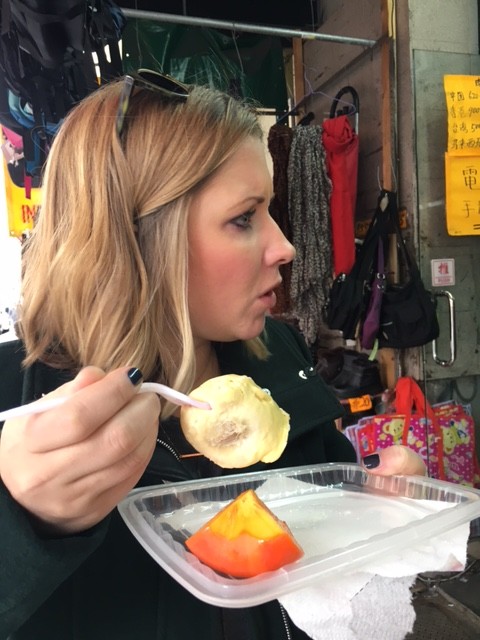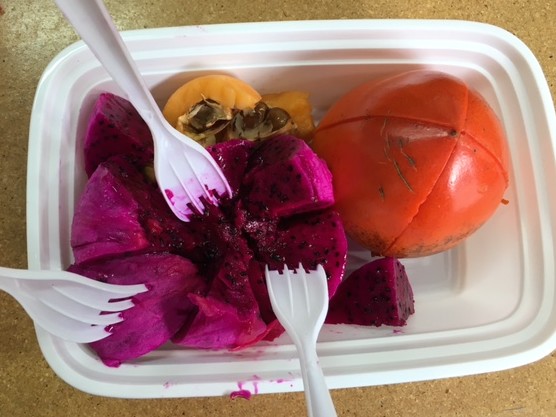 Photo Cred: Compass + Twine
Happy eating!
---
Comments