Photo Cred: Museum Hotel and Compass + Twine
Set deep within Turkey lies one of the most magical destinations on the planet. We're sure you've seen the images… colorful hot air balloons floating high above the lunar-esque landscape of Cappadocia. If you haven't, then get your Google on right now.
We first heard of the Museum Hotel when one of our trusted travel experts visited a year ago. The hotel was one of the first luxury boutique hotels in the area. They set the standard for offering top-notch accommodations, while still beautifully maintaining the historical ruins which are so distinct to the region. As one of the most prominent establishments in Cappadocia, the Museum Hotel consists of unique, cave-like guest rooms built into the terrain's natural rock formations. Terraces and common areas yield awe-inspiring panoramic views of the valleys below and hot air balloons above.
We could not be more excited about this new addition to our FLYAWAY Hotel Collection. Having recently stayed, we asked our Travel Expert, Brennan Shaffner, to capture her thoughts on this spectacular place:
C+ T Travel Expert – Brennan Shaffner:
Mind your head as you walk around the Museum Hotel, located on top of a hill in Uschiar. This hotel is made up of 30 cave rooms that are each unique in their own way. You are able to select your room prior to arrival – which may include an indoor jacuzzi or even wine-on-tap. No matter what room you pick, you can't go wrong. The breakfast spread is hands-down one of the best I've ever experienced. The choices are endless, so go hungry! Of course a visit to the area isn't complete complete without a hot air balloon ride to enjoy the views of Cappadocia. Here's a video snippet from my flight:
: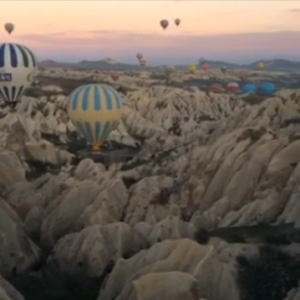 ---
The flight to Cappadocia is 75 minutes from Istanbul via Turkish Airlines.
Comments